Mooring Buoy Project
Buoy Sponsorships are available for the 2018 seasons. Have your organization's logo sticker on one of our shipwreck buoys.
Call 216-212-4611 to sponsor a buoy today!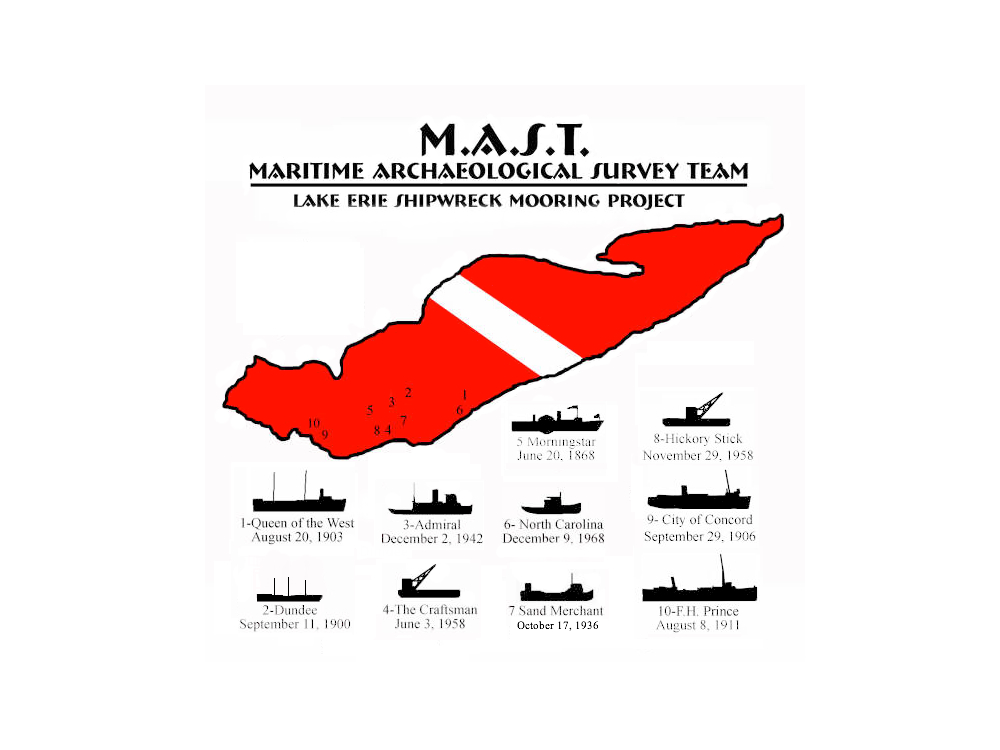 This project was made possible with the financial assistance of the Ohio Coastal Management Program, administered by the Ohio Department of Natural Resources, Office of Coastal Management and the Ohio Lake Erie Commission and Donations.
Ohio Shipwreck Mooring Buoy Project
Here is a video that Mike Wachter made for MAST to show how and why we are putting blocks next to Ohio's natural resources.
MAST Block movie (6.4meg)
Thank you Mike for the video
Norwalk Concrete Industries delivered the four remaining anchor blocks. Thanks to Jeff Malcolm and NCI
Ohio Mooring Buoy Project
Permitted moorings are seasonally placed on eleven shipwrecks located in the Ohio waters of Lake Erie. Each represents a specific genre of shipping in Lake Erie's rich maritime history. (as of 07/16/2019)
Dundee
Built: 1893, at West Bay City, Michigan
Type: Wood Schooner -barge
Foundered in a storm Tuesday, September 11, 1900
Dimensions: 220'6" x 35' x 16'5"
Coordinates: 41 41.330 81 50.634
Approximate Depth: 75'
Morning Star
Built: 1862 at Trenton Michigan
Type: Side Wheel SteamerLost in a collision with the bark Cortland, Saturday, June 20, 1868
Dimensions: 243' x 34' x 14'
Coordinates: 41 36.813 82 12.531
Approximate Depth: 65'
The Craftsman
Built: 1921 at Cleveland, OH
Type: Steel Dredge Barge
Foundered Tuesday, June 3, 1958
Dimensions: 90'1" x 28'1" x 8'3"
Coordinates: 41 31.942 82 00.375
Approximate Depth: 40 feet
Queen of the West
Built: 1881 at Bay City, Michigan
Type: Wood propeller
Foundered in a storm Thursday, August 20, 1903
Dimensions: 215' x 32'6" x 16'4"
Coordinates: 41 50.768 81 23.135
Approximate Depth: 70'
Admiral
Built: 1922 at Manitowoc, Wisconsin
Type: Steel Tug
Lost in storm Wednesday, December 2, 1942
Dimensions: 93'3" x 21'2" x 11'7"
Coordinates: 41 38.244 81 54.197
Approximate Depth: 75 feet
Sand Merchant
Built: 1927 at Collingwood, Ontario, Canada
Type: Steel Sandsucker
Foundered Saturday, October 17, 1936
Dimensions: 252' x 43'6" x 17'5"
Coordinates: 41 34.428 81 57.524
Approximate Depth: 65'
North Carolina
Built: 1908 at Dunham Towing & Wrecking Company
Type: Tug
Lost: flooding, December 9, 1968 Dimensions: 74'8" x 19'9" x 11'6" Coordinates: 41.43.808 81.22.885 Approximate
Depth: 40 feet
Hickory Stick
Built: 1944 at New Rochelle, New York
Type: Dredge barge
Lost: November 29, 1958, Foundered in a Gale
Dimensions: 110' x 30' x 8'
Coordinates: 41 32.299 N 82 06.241 W
Approximate Depth: 40 feet
F.H. Prince
Built: 1890 at Detroit Michigan, Detroit Shipbuilding Company
Type: Propeller Steamer
Lost: August 8, 1911, fire
Dimensions: 240' x 42' x 25'
Coordinates: 41 36.240 N 82 40.520 W
Approximate Depth: 18 feet
City of Concord
Built: 1868 - Ira LaFrinier & Drake Shipyard
Type: Wood Steamer
Lost: September 27, 1906, Gale
Dimensions: 135' x 26' x 11'
Coordinates: 41 32.730 N 82 32.808 W
Approximate Depth: 45 feet
Sultan
Built: 1848 in Chicago
Type: Brigantine, wood
Lost: September 8, 1864, Gale
Dimensions: 127' x 23' x 9.4'
Coordinates: 41 35.685 N, 081 36.936 W
Approximate Depth: 45 feet
Information from Erie Wrecks West
by Georgann and Michael Wachter.
www.eriewrecks.com ISBN: 0966131223

Using the Moorings
Attach a line to your starboard bow cleat. Run the free end of that line through the eye on the mooring float line, then connect the free end of your line to the port bow cleat of your boat as pictured below All moorings will be taken up in the fall..

Use at your own risk
There is a permanent mooring on each wreck site during the dive season. You are advised that all vessels use these moorings at their own risk. While the moorings were placed with all concern for safety and security, MAST can not assure that the moorings will be secure on your arrival. Divers should inspect each mooring on the first decent.
The moorings provide a 1.5 to 1 scope. Additional scope is required to provide a good anchorage. Use line from your vessel to provide the recommended scope from 3 or 5 to 1.

Dive Responsibly
Please remember to dive within approved safety parameters. Penetration diving is not recommended. Ohio law (Revised Code Sec. 1506.30-1506.99) prohibits the removal of material from and around the wreck. Please preserve our maritime history, take only pictures and leave only bubbles.

How can You Help?
Your participation and your contributions are needed. To donate funds for continuing operations, Please contact us at:
Maritime Archaeological Survey Team, Inc.
P.O. Box 93352
Cleveland, OH 44101-5352
email: Committee@OhioMAST.org
or Moorings@OhioMast.org
Preserving Great Lakes History
One Shipwreck At A Time
MAST, the Maritime Archaeological Survey Team, Inc.,
is a nonprofit avocational group dedicated to
documentation, scientific study and education
pertaining to underwater archaeological resources.